I don't know if you have this problem at your house, but at our house, the lingering daylight is making our boys question why they need to go to bed, "when it not dark out yet?" We enforce bedtime 90% of the time, but the other night I let them "stay up" after dinner and watch a favorite movie before bed.
Oh, the thrill! This gave me an idea - maybe we are ready for family movie nights?
Our boys are only 2 and 4, so content is key, but this opens up a whole new world. I've been thinking of movies they have not seen, classic characters I would like for them to know, and ones Hubby and I won't mind watching. Also, I require Rated G.
What perfect Tuesday's Top Ten list-making material! Here is what I've got so far:
Top Ten Movies for Young Boys
(8) The Incredible Journey
(10) The Fox and the Hound
Are these good selections or should we try others?
Please share any movies you have enjoyed with your young children, and/or ones we should avoid.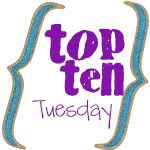 9 Comments »