Even though I posted pretty regularly this summer, I feel like I fell off the blogging wagon. I stopped visiting other blogs. Visiting is something I enjoy; I don't do it out of obligation or "you commented on mine so now I've got to comment on yours" rules. I like to take the time to cruise through the internet and read what other bloggers are saying . . . but that takes time.
Time is a precious commodity, especially in the summer.
Now that our life is falling back into the school/work rhythm, now that time is more managed, I'm going to take just a little bit of it and go visiting today. Maybe you've heard of these blogs, or maybe you haven't. Either way, would you like to go visiting with me?
In no particular order, ten blogs I have missed and will visit today:
Linking up with more blogs to visit: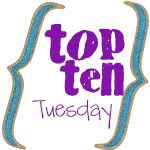 6 Comments »