Top Ten Reasons Why I Need a (Short) Blogging Break
(1) We got back from Disney World last night.
That's me and Little Guy's head.
(4) There is this thing called Halloween coming up. I don't know if you have young kids but it is KINDA a big deal and they have 8 million parties/excuses to wear costumes between now and October 31st. I may have to bring cupcakes somewhere.
(5) Halloween is exhausting.
(6) We have a family pictures scheduled for Saturday.
(7) I have no idea what we will wear.
(8) That may require shopping (not my favorite activity) and brain power that would otherwise be devoted to this blog. I seriously don't know where to start, as I'm surrounded by dirty laundry at the moment.
(9) I need a distraction. So, before I go, I feel the need to share two cool pictures from our trip. This was on a random road in Savannah when we were looking for a seafood restaurant that turned out to be closed:
Totally worth the wild goose chase. Love that prayer box.
(10) And this was in the sky above Disney World.
See, He is everywhere!
See you back here on Friday for Reap to Sow. We will be sowing from Chapters 5 and 6 - good stuff!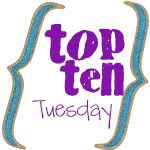 2 Comments »