I wrote the number 1,000 in my journal last week. I started listing God's gifts to me, looking for them, recognizing them, and appreciating them, on February 2, 2010. I took Ann's dare (she's got some new prompts for 2012, check it out) and reached 1,000 almost one year later.
Listing gifts has been fantastic. It is a discipline I will continue, and I am incredibly grateful that God blessed this world with Ann Voskamp and her book, One Thousand Gifts, A Dare to Live Fully Right Where You Are.
If you haven't read it yet, please do. It is life changing. At least, it was for me.
Now that I am a seasoned gift recognizer, I am delighted by what I find. I'm sure I miss millions of gifts a day, but at least now I see some. They don't all go whizzing by, dismissed as coincidence, fate or the logical sequence of the day.
For example, a couple of weeks ago I was at a conference. This was part of my old life, my lawyer life. I rarely practice anymore, but in order to maintain my license I sometimes go to conferences for continuing education credits. These can be painful reminders of how much I've forgotten, or how far removed my current life is from the days of my 26th floor office.
But the most recent conference was different. I chose seminars unrelated to my former practice area, my husband was in the room next door, and we were away for the weekend. It was fun.
One seminar was particularly interesting - Law Firm Management.
Wait! It really was interesting, because the speaker was NOT a lawyer. She was a motivational speaker, one of those people who teach you how to set goals, how to communicate effectively, and how to manage stress. Her lessons applied to keeping clients, but they could also apply to any aspect of life. I loved it. I found myself taking notes, and thinking about how her points could apply to my husband's active practice, and to our lives at home. I nodded my head in agreement with much of what she said, and didn't look at the book stashed in my bag once. At one point, though, she asked everyone to stand up (oh no) and practice our "small talk" skills. Double oh no.
You know that sense of dread, right? I turned to the person to my right, a woman about my age. We smiled awkwardly, and then I asked her the prompted question, "What is your hobby?"
"Well, umm, I guess you could say that my hobby is my six year old daughter."
"I haven't practiced in years," she continued. "I'm just here to maintain my license."
I had to refrain from hugging her. Turns out, we had tons in common. We chatted off and on throughout the rest of the morning, and while I didn't have my list with me, I thought to myself, Thank you, God. Thank you for these gifts:
1,001 - The notion that prompted me to choose the Law Firm Management seminar.
1,002 - Sitting next to you-know-who in the middle of that great big room.
1,003 - A lively and entertaining speaker.
1,004 - Being forced to ask the question.
1,005 - Living, breathing reassurance that my life choices are shared, just when I needed it most.
Those gifts reminded me of why I've been hanging out in Psalm 139 lately, relishing how God knows me. He knows what I need and His gifts are so, so personal.
You have searched me, Lord, and you know me . . . Search me, God, and know my heart; test me and know my anxious thoughts. See if there is any offensive way in me, and lead me in the way everlasting.
Are you listing gifts? If so, are you finding it to be a discipline that brings you closer to God? Can you see gifts that are just for you?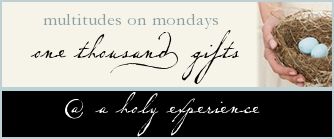 14 Comments »