I thought of this post while napping with my three year old.
The holidays are full of so many BIG To Do List items: decorate tree, buy presents, wrap presents, keep track of who is getting what present, cook ridiculous amounts of food, socialize nonstop, remember the Reason for the Season, breathe, take tree down, clean the house again, find places for all the toys underfoot . . . it goes on and on and on. But here is what really matters:
Top Ten *Little* Things I'm Glad I Did Over Christmas Break
(1) Napped with my three year old.
(2) Washed dishes with my mom.
(3) Sat and talked with my dad.
(4) Ate as much cheese ball as I wanted.
(5) Played Trivial Pursuit with The Fam.
(6) Invited all the in-laws to watch Big Guy in the Christmas Eve pageant, and then asked Hubby to save two rows for them :)
(7) Listened to an obnoxious amount of Christmas music.
(8) Sat by the tree with Hubby, almost every night and every morning.
(9) Allowed, and enjoyed, some "pajama days".
(10) Took an exercise class for the first time since September. Hello, New Year's Resolution!! And, yes, I'm still sore.
What are some little things you did?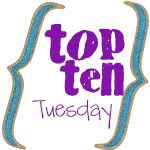 6 Comments »