(Something unexpected for Hubs)
I felt a little deviant
writing on our mirror in lipstick. It made a mess and ruined a perfectly good lipstick. SO something I would not do, which made it the perfect way to say "I love you," when I left town a few weeks ago.
Hubby and I will celebrate 9 years of marriage this June. That does not make me an expert on marriage, romance, or Valentine's Day. I only feel qualified to say that I view marriage as a journey: a hand-in-hand, back-to-back journey through life. I am eternally curious about how to navigate our united journey, and that lead me to create this:
Top Ten Verses to Apply to Married Life
1. Some people make cutting remarks, but the words of the wise bring healing. Proverbs 12:18
2. (B)e quick to listen, slow to speak, and slow to get angry. James 1:19
3. Do to others whatever you would like them to do to you. This is the essence of all that is taught in the law and the prophets. Matthew 7:12
4. And "don't sin by letting anger control you." Don't let the sun go down while you are still angry. Ephesians 4:26
5. So encourage each other and build each other up, just as you are already doing. I Thessalonians 5:11
6. Don't just pretend that you love others. Really love them. Hate what is wrong. Hold tightly to what is good. Love each other with genuine affection, and take delight in honoring each other. Romans 12:9-10
7. A cheerful look brings joy to the heart; good news makes for good health. Proverbs 15:30
8. Give honor to marriage, and remain faithful to one another in marriage. Hebrews 13:4(a)
9. A gentle answer turns away wrath, but a harsh word stirs up anger. Proverbs 15:1
10. Above all, love each other deeply, because love covers over a multitude of sins. I Peter 4:8
Think of the good it would do to take just one of those verses and really focus on it for a day, a week, or a month of your marriage. Maybe you could try it today?
Also, what verse would you add to this list?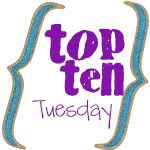 4 Comments »