Technically, this started
at the end of December. I was faking sleep on the living room couch and an idea was born . . . But who wants to be technical?
Here are the results from that little poll (right over there - - - ->) on the sidebar, called JUST CURIOUS. If you are an email reader, you've got to click over to play. Come on! Make your voice heard.
Here are the results from (late) December 2011, and January and February 2012:
You faked sleep in order to avoid contact with family over the holidays.
Your Christmas trees were real.
You made New Year's resolutions. (But are you keeping them?? That's what Fess Up Friday is all about . . . )
You write thank you notes, and you are teaching your children to do the same. (This was a hot topic, and the "Yes, and I'm teaching my children to do the same" answer won over "Sometimes I do, sometimes I don't" by a 2 to 1 margin. Polite!)
You are caffeine consumers, with coffee being the beverage of choice.
You'd remodel your kitchens if you could change your house in one way. A close second (one vote difference) was getting more closet or storage space.
You wear your favorite jeans for up to three days in a row, or until a child deposits bodily fluid on them. None of you wash jeans after one wear. This makes me feel much better about myself.
You are so green: everyone recycles. I love that.
Your kids watch TV, but with limitations on time and scope. (Here is an interesting article I just found about how to put limits on TV, called Seven Ways to Break the TV Habit.)
You use your microwave more than any other cooking appliance in the kitchen. (I remember one sad day when I was using the timer on the microwave for something other than cooking. When it rang, my then 2 year old instinctively chimed, "Supper's ready!" It was 10:00 a.m.)
I love getting to know you better. I love your sense of humor (you faked sleep, too!) and your realistic but disciplined take on parenthood (Yes to thank you notes and TV).
What strikes you as most interesting here? What are you JUST CURIOUS about? Give me a suggestion and I'll ask . . .
Since there just happen to be 10, and this is the last day that OhAmanda! is hosting Top Ten Tuesday, we'll say these were the Top Ten Things I've Been Just Curious About: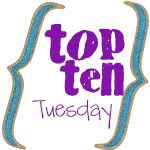 Add a comment »