Because of my devotion to Imperfect Prose, I recently stumbled upon this list of 50 Church and Faith Lady-Bloggers. I've heard of 15 of these blogs, but I don't even visit those 15 on a regular basis. The rest are new to me and I haven't yet had time to explore the new spaces. I want to; it is just overwhelming.
Blogland is a big place, filled with published authors and artists and people who get paid to speak at conferences. I like knowing about those folks, but I also enjoy my quiet corner here. I'm grateful that you visit and share it with me. If you have a few moments to yourself this weekend, I encourage you to jump over and explore the list.

Even though it is overwhelming, it is also amazing to me that so many women are out there, clicking on their keyboards in an effort to know more about God and share that with others.

What a wonderful thing! Some of us have small audiences, and some keyboards are like megaphones. Either way, I know that God is smiling and encouraging each one of us to use whatever talents we have (writing, speaking, painting, cooking, advocating, teaching, hand-holding, smiling, you name it) to lift up whoever is around us.
After all, he satisfies the desires of every living thing . . . Yes, he does.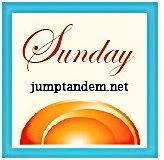 and on Wednesday:
Word Filled Wednesday at Internet Cafe Devotions

20 Comments »