It used to be

that I always took the boys outside for their afternoon snack. It was a necessary escape. I felt claustrophobic in the house after a day of nursing one and chasing the other. I craved outside air, and a glimpse of other adults. It was too late in the day to pack us up again, too soon to start the dinner routine. The front was just right when the backyard suddenly felt too private, lonely.
I'd forgotten about that until just the other day, when an impulse directed me to the front door. "No snack in front of the TV today, boys. We're going to take it outside."
It was lovely, greeting the now-familiar neighbors as they arrived home from school.
It was lovely, watching the breeze and swatting at bugs.
It was lovely, laughing and talking to each other - not Jake.
It was lovely, remembering how far I've come on this motherhood journey: No longer feeling pent up after long days, but rather, savoring each moment. (At least, most of the time.)
I think we will make the front steps a summer tradition.
Linking with:
Thought Provoking Thursday
@ intentional.me
and a new place on Friday the 15th: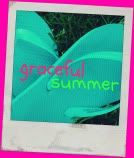 (I'm so glad Michelle made this a link up. Her Graceful Summer posts are a blessing meant to be shared. Check her out.)

11 Comments »