I heard the most beautiful explanation of Christianity last week, thanks to VBS. My kids attended one at a neighboring church. It included a daily "parent Bible study" after drop off - just 15 minutes in the sanctuary, previewing the Bible story the kids would hear and getting the grown up explanation. (Marvelous idea.)

Just a small portion of the VBS swag that came home last week.
Wednesday's story was from Matthew 16:13-25. Peter answers Jesus's question correctly, "You are the Christ, the Son of the living God." Jesus tells him, "I'll build my church on this rock . . . I'll give you the keys of the kingdom of heaven." (v.18-19) Peter must have felt pretty special, the minister pointed out - and stunned. Peter was a bit of a screw up, an unlikely successor for Jesus's ministry, maybe even the last one Jesus should have chosen.
(Sound familiar?)
Exhibit A in the case of Choosing Peter v. Common Sense follows. Just three verses later, Peter got ahead of himself:
Then Peter took hold of Jesus and, scolding him, began to correct him: "God forbid, Lord! This won't happen to you." But he turned to Peter and said, "Get behind me, Satan. You are a stone that could make me stumble, for you are not thinking God's thoughts but human thoughts." (v. 22-23)
So quickly, Peter went from the rock upon which God will build his church, to "Satan," a stumbling block for Jesus. It would make sense to us if Jesus said, "Well, clearly you aren't right. You're hot-headed, stubborn, foolish, impulsive, less than perfect. I'll find someone else."
But Jesus didn't say that. Jesus does so many things that don't make sense to us. He kept Peter in that special place, even when Peter fell asleep at Gethsemane and even after Peter denied him three times. Jesus forgives.
"There is nothing He can't handle," the minister explained. "There is nothing, nothing, you can throw at the cross, that it can't withstand. Part of being a Christian is living in grace. We know that God always forgives. Always. We don't have to be perfect. It's knowing that no matter what we do, He isn't going anywhere. His love is that deep and that strong. That is why Christians are sort of obsessed with this idea of forgiveness. It is different than what anything else offers. And that is the good news."
The handful of parents sitting there, with babies squirming and toddlers babbling, nodded their heads in awe. It was a message I've heard my entire life. But for some reason - boom - it hit me in a new way this time. I got it, on a new level.
So, today, I'm grateful for:
(1351) VBS
(1352) Staying to hear
(1353) Peter's example
(1354) The million other times I needed to hear it, in order to "get it" again.
Do you ever find that you need to hear a message over (and over and over) again, in order to "get it"?
Linking with this week: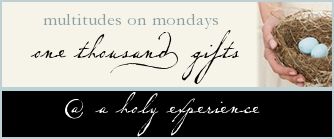 Playdates @ The Wellspring

7 Comments »