to eat tomatoes before they become too ripe,
to use the figs while they are fresh,
to catch crabs before they scamper away,
to capture sunsets before they fade,
to Go Fish as long as they ask,
and to thank God for it all.
I'm feeling a rush to stillness

,
for the rapid-fire blessings of
this season.
What are you rushing towards this summer?
Linking with: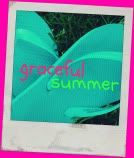 4 Comments »