We celebrated Big Guy's first day of Kindergarten on Wednesday with our third annual Back to School Feast on Tuesday night. I kept the decor simple, and made these place cards at home:
In between goofy boy antics, we discussed and explained our new theme and verse. It will take some time for us to memorize it, but the goal is simply to set an excited and positive tone for the school year. Big Guy has always loved flags, so the red, white and blue table setting was perfect for him. I may do something slightly different for our preschooler in two weeks, but the theme and verse will remain the same.
Who doesn't love a name tag?
The boys enjoyed worksheets as "appetizers," and you can just see the edges of Big Guy's paper crown at his place. I wrote his name in red and blue, and drew stars on it. He was thrilled. He told me he wants to save it, "for all my Back to School Feasts!"
As usual, our menu included pink lemonade and chocolate cake. Big Guy got to pick the sides and everyone was a member of the Clean Plate Club - success!
For prior "feasts" click here:
Are you celebrating Back to School this week?
Linking with: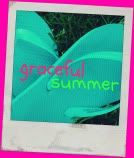 (because this is how we ended our Graceful Summer)
Frugal Friday @ Life As Mom (because this tradition is low cost/high impact)

1 Comment »