I haven't published my ongoing 1,000 Gifts list in a long time, and it is rare that I post family photos here, but it feels right today. I hope you all are enjoying this holiday weekend as much as we have.

1441. Surprising my dad with a birthday visit.

1442. The boys' joy at being "sneaky" for a surprise.
1443. Their joy over the miniscule amount of snow left in the shadows when we arrived.
1444. Small churches.
1445. Men's Sunday.
1446. A booming rendition of Victory in Jesus.
1447. Not needing to look at the words.
1448. The wisdom of hymns.
1449. A beautiful afternoon.
1450. Boys on a "nature adventure"
1451. The delight grandparents and grandchildren take in each other.
1452. Time together.
1453. Watching Downton Abbey with my mom.
1454. Going home.
Linking with: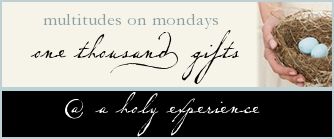 Michelle for Hear It/Use It

4 Comments »