*This giveaway is closed. Congratulations, Jane-Ellis!*
Okay. We're just getting spoiled around here.
How would you like to win the newest VeggieTales movie?
Oh, you would? Your kids are crazy about talking tomatoes and smiling squash, too? You want them to learn about making good choices, and enjoy a silly song or two?
We watched it the other day, and even my oldest, who is growing out of VeggieTales, enjoyed it. The construction theme definitely appealed to my boys, and this warehouse scene was their favorite.
The DVD also includes a Mother Goose story,
The Good Egg of Gooseville,
which is just as long and just as cute as the feature presentation.
Quite a lot packed into this DVD!
What are you waiting for? Enter to win!
Simply leave a comment telling me which VeggieTales character is your child's favorite.
*This giveaway closes at midnight on Saturday, March 9th. The winner will be picked at random and announced on Sunday, March 10th.
A gift for everyone: here is a coloring page for you to print out. (This is the first time I've ever linked up something from Google Docs, so please let me know if it works!)
Linking with: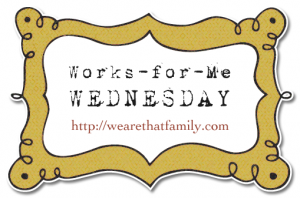 Heart+Home @ MercyInk

6 Comments »